To set up an Apple TV there are a few things you're going to need. First of all, you're going to need an HDMI cable. This is separate from the cable you received in the box, that's a power cord. Just plug that puppy into the Apple TV and then into an outlet. Your HDMI cable connects the Apple TV to your television. Look on the back of the Apple TV and you'll see an HDMI port, you'll see the same on the back of your television. Connect the two and let's get started.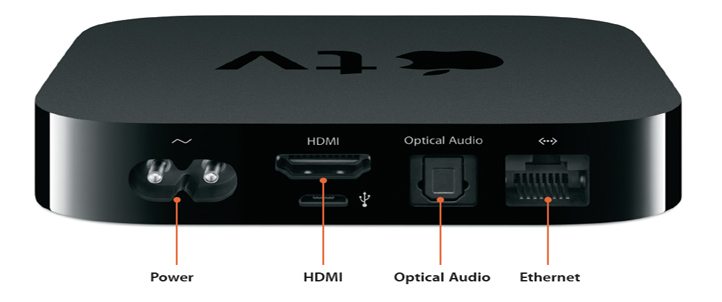 Easiest Option to Set Up for iOS Users
[unordered_list style="arrow"]
Have your iPad, iPhone, or iPod Touch available running iOS 7 (not available for iPhone 4 and iPad 2) to connect to your WiFi.
Once everything is plugged in and powered on, your television screen will display an instruction that says you can use your device to automatically set-up your Apple TV. Just turn on your Bluetooth and touch the device to your Apple TV. Just an FYI, don't just tap the device to the Apple TV, place it directly on the Apple TV.
Your device will then prompt you to enter your Apple ID and password. Go ahead and enter in the information so that the Apple TV will sync to your iTunes account. This way you can rent or buy movies and music!
After entering in your information, your device will ask you if you want it to remember your password. That's completely up to you. Be mindful if you have children, you may not want your Apple TV to remember your password. You may just wake up from your nap and notice you've bought 10 movies in the matter of minutes!
 Next, your device will ask you if you want to send anonymous data to Apple. Again, your preference.
[/unordered_list]
Let the Automatic Set-Up Begin
After following the above steps, your Apple TV will begin its route. Your Apple TV will connect to your home WiFi, activate default settings, and access your iTunes Store. This process can take anywhere from just a few minutes to half an hour, it all depends on your connectivity. So be patient.
Once that annoying spinning wheel disappears, your television will display the Apple TV home screen. If you have a Netflix, HULU, HBO2 or any other streaming service account that can be accessed via Apple TV, you will have to input your information separately.
Are you local to the Hilton Head, Bluffton or Savannah areas? Then stop by our show room and we'll show you all the nifty things your Apple TV can do for you, or walk you through upgrading into a full home automation or home theater system. If you're not a Low Country local, leave a comment or send us a message and we'll be sure to help you out!