Screen Innovation's Zen Series extends your lifestyle to include a new and exciting home area
The Zen Series Outdoor Shades gives homeowners an outdoor living space that feels like a part of the house. Zen is perfect for complementing outdoor home theaters, outdoor bars and verandas. The extra space created also makes a perfect place to host gatherings and parties.
A Better Outdoor Living Area
Zen is an inviting addition that will help maintain a comfortable temperature. In the cooler months Zen keeps the heat in, while in the warmer months Zen is able to keep in the A/C. This means your outside living area will be comfortable year round.
One of the biggest features of having a sealed outdoor living area is gaining the relief from the Lowcountry's bugs. Since Zen creates a sealed environment, it will keep the mosquitoes and the other bugs away.
A Custom Feel
The goal of Zen shades is to give the home a custom feel, without any noticeable tracks. You can install tracks during home building for an in-wall look, but Zen tracks can also be fitted to existing homes. The tracks are mounted on the outside of the home and can be painted easily to match your home's custom color.
There are two types styles to choose from, a roll style gives off a modern look, while a cassette style shade gives a "closed in" look. The photo above shows the cassette style painted to match the home's exterior color. Zen truly blends in and adds a fun and custom feel to your home.
Easy Control
Zen can be controlled by anything you can imagine. It works perfect with Alexa and Google Home systems as well as home control systems such as ELAN. There is a variety of wall switches and controllers for the Zen Series, guaranteeing an easy to use system for every homeowner.
The Zen Series is designer oriented with a large fabric collection and customizable options depending on the desired goals of your outdoor living space. Zen features UV blocking and weather resistance technologies for durable and long lasting use. Zen is also available with the new high durability Precontraint fabrics from Serge Ferrari.
Reliable and Robust
Jamming can be a concern, and is one of the biggest drawbacks when considering a motorized system. Zen is meticulously designed to know when an object is obstructing the way. So when Zen notices an obstruction, it will stop and roll back up. This prevents any damage or jamming of the system.
Zen Shades were built for the outdoors, with outdoor rated motors and components. They are durable and quiet, reliable for all seasons and weather conditions. When high wind becomes an issue, Zen will automatically raise up to prevent any damage from occurring to the screen or the tracks.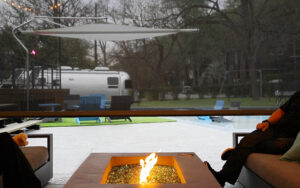 Zen series adds fun and excitement to an outdoor area. It will completely transform your home and extend its square footage within a sealed enclosure. Its the perfect way to keep bugs away and to maintain a comfortable temperature so you can enjoy your outdoor living space year round.