HEOS is a wireless music system that allows you to control all your music effortlessly from anywhere in your home. All you need is one or more HEOS-enabled AV receivers or speakers and the free app. Plus, HEOS now works with Amazon Alexa voice control.
HEOS gives you access to all your music, and, you can add other users to the line-up to vary the playlist or personalize the room according to the user: His tunes in the kitchen, hers in the master bedroom. Stream from your favorite music service, phone or network.
Stream from the World's Leading Online Music Services
With HEOS, you have all the options you want and all the access you need. Stream your favorite cloud sources like Spotify, TIDAL, Napster, TuneIn, SoundCloud and Amazon Music. Plus, listen to tracks directly from your phone, tablet or USB drive.
Multiroom Audio Means Possibilities
Install the free HEOS app on as many phones and tablets as you like. Control the music in every room from any device. Group two or more rooms together to play the same song perfectly synchronized in party mode. Play a different song in every room when everyone wants to dance to their own tune.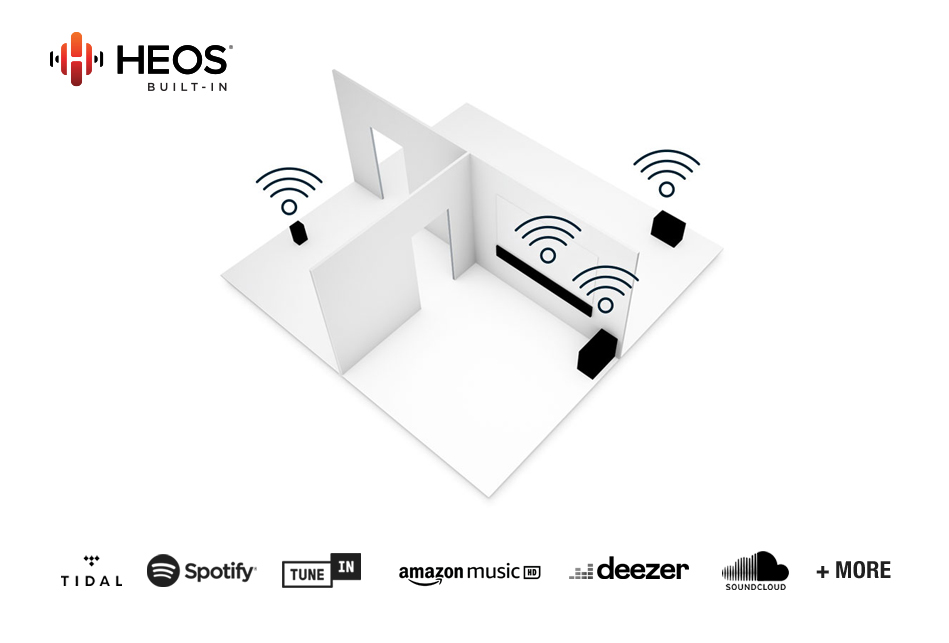 Audiophile Grade Synchronization
Microseconds matter: To deliver a true audiophile listening experience with multiple HEOS players at once, each HEOS player must be synchronized to an extremely high degree. Based on years of meticulous research, HEOS delivers unparalleled synchronization performance within microseconds.
HEOS is the product of an obsession with audio and the love of music. Our in-house engineering team has worked together hand-selecting each critical component to play its part inside the unique beauty of our acclaimed designs.
The Denon Home speakers play all your music wirelessly with Hi-Fi quality sound, in any room of your home. Stream from popular music services and make use of quick pre-selections with just a gentle touch.
The Denon Home Series works with the latest voice assistants. Use a smart speaker or your phone, and simply speak your commands with Amazon Alexa, Google Assistant and Apple Siri. Ask to play music, turn up the volume, skip to the next track and more.
Flagship wireless speaker for big sound
Denon sound quality
Unlimited music sources
6 Quick Selects for your favorite stations
Works with Amazon Alexa, Google Assistant, and AirPlay 2
Available in black or white
Mid-size wireless speaker for bigger rooms
Denon sound quality
Unlimited music sources
3 Quick Selects for your favorite stations
Works with Amazon Alexa, Google Assistant, and AirPlay 2
Available in black or white
Compact wireless speaker for every room
Denon sound quality
Unlimited music sources
3 Quick Selects for your favorite stations
Works with Amazon Alexa, Google Assistant, and AirPlay 2
Available in black or white
Get a quick, no-hassle estimate on your project