Elan Control SystemsAn award-winning company, Elan, is one of the leaders in smart home integration systems across the globe. Founded in 1989, Elan is part of the Nortek family, a group of companies such as Speakercraft and Furman who offer various high-quality technology solutions worldwide. They don't offer solutions you can buy at any electronics store. They use certified, trusted dealers, such as AIC, to install and educate clients about their systems. Their sleek designs and extraordinary integration capabilities make Elan one of the most trusted brands in the market.
We utilize Elan technology in nearly every one of our projects. One of the best things this company offers is diversity and customization. Whether it be a single-room residential or a large-scale commercial project, Elan offers enough variety in their products to get the job done. Their technology is capable of integrating home entertainment systems, housewide audio, HVAC, security systems, lighting, and more. It's a no-brainer for our company to rely heavily on their state-of-the-art technology.
The control options offered by Elan are endless. Whether you want to control your home with a remote, by voice, touchpad, or by phone, Elan can make it happen. 
Control every aspect of your home from your phone with the Elan App, designed to work in-home or from across the globe. With a sleek mobile design, made to work exactly like the touchpads, the app never misses a beat, allowing you to view security footage, change temperature, or even control lighting from anywhere.
ELAN Intelligent Touch Panels
With a modern and sleek design, meant to blend with the nicest of home decor, the Elan touchpanels are unmatched. Facial recognition and voice technology are integrated for personalization, security, and ease of use.
Touch Panels come in black or white and come in two sizes 12" and 8".
Durable, wi-fi enabled, rechargeable… What more can we say? This is one of the best remotes you can get your hands on.
The HR30 provides whole home system control with instant feedback and control of entertainment lighting, security, and climate.
This sleek WiFi remote leads with a 2.8" touch screen mounted flush for a remarkably sophisticated feel while navigating the intuitive ELAN UI. Surf favorite channels, monitor security system, lock and unlock doors, dim lights, adjust the temperature and more, all with a simple touch. The screen enables a swipe left or right to quickly access multiple zones. Below it are three newly designed hard buttons, each of which can be personalized for one-button access to key systems. The 46 hard buttons make using the HR30 as incredibly robust as it is easy and intuitive. The HR30 features an updated 802.11 b/g.n radio and a built-in accelerometer to instantly wake the moment it's needed.
The HR10 remote is the ultimate single zone remote control. It features a 2.4" color LCD screen for easy operation with hard buttons for commonly used functions. Includes battery and charging station.
The remote sports a 2.4" color LCD screen with three soft keys on either side. Like the HR30, it's three customizable buttons below the screen deliver instant access to music, movies and lighting, and its accelerometer ensures it wakes instantly when needed. The updated 802.11 b/g.n Wi-Fi radio ensures a robust connection to the network at all times. When not in use, its sleek charging base, cradles it in a convenient upright position.
Elan offers top-of-the-line security options. They employ their advanced IntelliVision® analytics to give you personalized, live-time alerts, giving you peace of mind whether you're home or away. They offer security solutions for small-scale residential or large commercial projects. It's time to protect the things you love with Elan.
 Video doorbell systems are becoming the new norm, allowing users to see and communicate with who comes to the door as well as alerting them to motion near the front door, all from a smart device. The problem with most of these video doorbells, is that they do not fully integrate with other technology in the home and will always require a separate app to operate the system. Luckily, Elan's new Intelligent Video Doorbell is changing that, allowing for full integration with an Elan control system. The doorbell camera will act as an extension of the Elan system's surveillance cameras, with video captured on the Elan NVR. You will have complete control of the device all from the same Elan app that controls other systems in the house. The doorbell also employs advanced motion analytics, all but eliminating false motion alerts that can become quite annoying over time.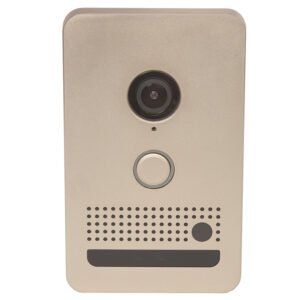 Cameras and Network Video recorders
Boasting a wide selection of cameras, you're sure to find what you need with Elan. Cameras come with advanced IntelliVision analytics, so they never miss a beat, and are capable of giving you intelligent, live-time notifications. They even offer turret cameras, capable of facial recognition and following movement on the property. They offer multiple network video recording options, so footage can be intelligently stored and sorted through ata moments notice.
The entertainment possibilities are endless with Elan integration. This technology is capable of controlling custom home theaters, outdoor entertainment, indoor media rooms, whole home audio and more all from one simple interface. Whether you're having a more intimate movie night with a loved one or hosting a gathering at your home, trust that Elan will make it a breeze.
Smart Systems Controllers
Flexible, powerful, efficient, and reliable, ELAN smart home controllers are the brains behind your system, delivering the flexibility to meet the needs of large and small projects without compromise. From the flagship gSC10, capable of handling large-scale projects, to the media room-ready SC100, ELAN controllers have what it takes for any project
Entertainment with no limits
Whether you're looking to control a simple entertainment system or whole-home audio-video, Elan products have you covered. No matter how many video sources you have, Elan's line of matrices, splitters, and switchers deliver the range of industry-leading features expected for today's whole-home audio and video installations. You are able to control everything from your home theater to an outdoor entertainment space with one easy-to-use interface. The possibilities are endless.
Take Control of your Home
Easily control HVAC systems throughout your home no matter where you are in the world with Elan Smart Therostats. With Elan, you can program AC systems to change temperature based on time of day or even whether outside.
ELAN turns on smart lighting to greet you when you wake up or return home. Expecting company? A single touch sets the perfect party mood.
Control shades in your home with a touch of a button. Program shades to extend or recess up based on time of day, potentially saving money on heating cooling costs. Easily set the mood for any occasion.