ELAN Smart Home Automatic Control Systems
Elan Control Systems offer the most robust and reliable automation and control system on the planet. The elegant ELAN remotes, touch panels and keypads allow you to manage and control your smart home control systems from anywhere.  Our 12" and 8" smart home touchscreens and control panels have built in analytics, Alexa control, and instant one-touch access to your most common home automation controls.for the ultimate personalization. Away from home? The ELAN Mobile app offers robust control and enhanced communications— turn off your sprinklers from across town, or answer the door from across the globe. The ELAN Luxury Home Automation and Control System gives you this power and control. Advanced Integrated Controls delivers the experience.
ELAN Intelligent Touch Panels
The Elan Control Systems Intelligent Touch Panels enable a new way to control the intelligent home. Using facial recognition and smart analytics the panel personalizes the experience for each individual user. The panels also include integrated Alexa voice assistant technology, expanding the way in which a user can interact and operate their home.
Touch Panels come in black or white and come in two sizes 12" and 8".
 Video doorbell systems are becoming the new norm, allowing users to see and communicate with who comes to the door as well as alerting them to motion near the front door, all from a smart device. The problem with most of these video doorbells, is that they do not fully integrate with other technology in the home and will always require a separate app to operate the system. Luckily, Elan's new Intelligent Video Doorbell is changing that, allowing for full integration with an Elan control system. The doorbell camera will act as an extension of the Elan system's surveillance cameras, with video captured on the Elan NVR. You will have complete control of the device all from the same Elan app that controls other systems in the house. The doorbell also employs advanced motion analytics, all but eliminating false motion alerts that can become quite annoying over time.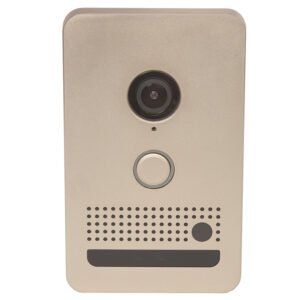 The HR30 provides whole home system control with instant feedback and control of entertainment lighting, security, and climate.
This sleek WiFi remote leads with a 2.8" touch screen mounted flush for a remarkably sophisticated feel while navigating the intuitive ELAN UI. Surf favorite channels, monitor security system, lock and unlock doors, dim lights, adjust the temperature and more, all with a simple touch. The screen enables a swipe left or right to quickly access multiple zones. Below it are three newly designed hard buttons, each of which can be personalized for one-button access to key systems. The 46 hard buttons make using the HR30 as incredibly robust as it is easy and intuitive. The HR30 features an updated 802.11 b/g.n radio and a built-in accelerometer to instantly wake the moment it's needed.
The HR10 remote is the ultimate single zone remote control. It features a 2.4" color LCD screen for easy operation with hard buttons for commonly used functions. Includes battery and charging station.
The remote sports a 2.4" color LCD screen with three soft keys on either side. Like the HR30, it's three customizable buttons below the screen deliver instant access to music, movies and lighting, and its accelerometer ensures it wakes instantly when needed. The updated 802.11 b/g.n Wi-Fi radio ensures a robust connection to the network at all times. When not in use, its sleek charging base, cradles it in a convenient upright position.
ELAN 8 provides an interface to an ELAN home entertainment and management system on Android or Apple products.
ELAN 8 integrates and provides control for media, home theater, distributed audio, security, door locks, climate, lighting, shades, video cameras, irrigation, pool/spa and more.