What is ELAN?
ELAN is a whole home solution for home automation. It lets you take control of your security, entertainment, HVAC, lighting and shades, and so much more in one easy to use, intuitive program. And has complete native control of the newest Lutron Palladiom Lighting and Shade Systems.
Their signature Intelligent Touch Panels with built in analytics really set ELAN apart from competitors.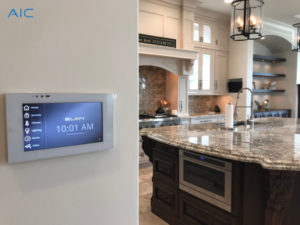 The touch panels feature facial recognition and integrated microphones to enable voice interface. Facial recognition allows users to personalize their experience, while integrated microphones utilize Amazon's Alexa.
Touch panels come in either black or white and you can chose between 8″ or 11.6″ screen sizes.  With ELAN's 8.4 update, these touch panels are now even more exciting than before.
The Update – Personalization 2.0
ELAN's latest update is what we all have been waiting for. This new update brings customization to your ELAN touchscreen.  Create your own unique theme with your own personal pictures. Edit your theme with different icons, fonts, buttons, and different colors.  Each panel can have its own unique theme to match the decoration of each room.
Choose from a selection of screen savers or create your own picture slide show. Use widgets to show the weather, time, calendar events, now playing along with media controls. This can be set at your own preference. Along, with night mode, night brightness, and dimming option. So you will not become blinded by the panels. When using them at night.
They've updated the fly – out and favorite sections for quicker access. The Panel recognizes you, and your favorites, will be your own. Save your favorites to your own profile for easy access. Which are available through the source selection.
Enhancements
And, an added QR code option for linking your Alexa.  Also, making it much faster. And easier than before. There is now a "decline all" option for incoming door station call. This will stop the ringing on all the devices throughout the system.
Included in the new update is support for the new autofocus smart analytic camera series that ELAN had announced earlier this year.
Advanced Integrated Controls has been recognized as a top dealer for ELAN Home Systems. If you are interested in ELAN and their products contact us today.