The Top Live Streaming Services Today
So you've decided to save and cut the cord, but still want the luxury of live TV. No worries, there is a plethora of live TV services that offer you your favorite channels at half the price of the cable bill. We'll talk about each service, break down what features each offer, and then you can make a decision on which one is right for you.
These are the most popular live streaming services today:
Sling TV

DirectTV Now

Hulu with Live TV

Youtube TV

PlayStation Vue

Fubo TV
Sling TV
At the lowest tier, Sling Orange, offering $25/month, SlingTV is the most affordable option out of all the top live TV services. If you're trying to spend the least amount possible, this is the most budget-friendly option. You're going to get a broad range of channels with this tier so you will have to compensate a few major channels for the price you're paying; it's missing channels like CBS, Animal Planet, MLB Network, Fox News, TCL, and Nickelodeon, from all their packages. Sling TV gives you the option to customize with add-ons, picking your favorite channels to add to your subscription which is an additional $5/month. They offer two more tiers with Sling Blue at $25/month and Sling Orange and Blue+ at $40/month. Missing channels from Sling Blue are ABC, Disney Channel, and ESPN. Sling Orange can only stream to one device while Sling Blue can stream to three devices. Great news for parents, Sling TV offers parental controls. The drawbacks are that you can't live pause and some DVR restrictions for certain channels like Disney. Sling TV has a promotion right now where they will throw in a Roku Express when you subscribe and prepay for two months.
Direct TV Now
Although a satellite provider, Direct TV offers this no dish needed streaming service. This service basically offers everything that Direct TV offers, just without the installation of a satellite. This isn't very budget-friendly and one of the more pricey options, but still cheaper than your average cable bill. Pricier for a reason; DirectTV Now has the highest number of channels in categories of sports, news, and entertainment from any streaming service. If that isn't enough, for an additional $5/month, you can add HBO, Cinemax to any package. This addition also includes every live HBO or Cinemax channel. They even offer a Spanish package and international packages in Vietnamese, Brazilian, and Korean.
Direct TV offers 4 tiers:
Live a Little: 65+ channels at $40/month

Just Right: 85+ channels at $55/month

Go Big: 105+ channels at $65/month

Gotta Have It: 125+ channels at $75/month
You can stream to two devices simultaneously for free or upgrade to three streams for $5/month. A downfall is that it has limited DVR storage, with only 20 hours, which is the lowest amount out of all providers. You also don't have the option to upgrade to more hours, this could be a deal breaker. The performance on the Roku App isn't up to par; you can't pause for live tv. Direct TV does offer tons of great deals, especially for AT&T Wireless customers. AT&T customers are able to stream content on their phone without using up cellular data. For new customers, you can get a 7-day free trial and if you spend $65 in the first month, they'll throw in a Roku Streaming Stick. Even better, you get 7 days free after the prepaid period and you'll get to keep the streaming stick if you decide to cancel.
Youtube TV
Unlike the tiered option other services provide, Youtube only has one version of their live TV service for $40/month. With over 70 channels, it has a great selection of live sports, news, and entertainment channels like ABC, AMC, CBS, CNN, ESPN, FX, and NBC. It uses 60 frames per second for sports channels to avoid lags and choppiness. Youtube Red Originals are included with your subscription free of charge. They don't include a couple of major channels like Food Network, HGTV, A&E, Comedy Central, Discovery, History, and Lifetime. If you want an upgrade, you can add on channels like Showtime, Starz, NBA League Pass for $3-$15/month. Youtube TV offers the best DVR option with unlimited DVR, but the recordings are erased after 9 months. The drawback is that you won't be able to download recordings for offline viewing and some DVR shows are replaced by on-demand versions. You can have up to 6 accounts and 3 streams simultaneously. Surprisingly, Youtube TV isn't nationwide yet, it is only available in 99 markets across the nation. Make sure to check their website for availability in your area before becoming a member. On the bright side, all four local channels are available in all 99 markets. The interface works well across most platforms and is sleek and easy to navigate. It isn't available on the Amazon Fire TV app but If you have Google Home or Chromecast, you'll be able to use Google Assistant via voice control; for example, it'll tell you what content you have saved on your DVR.
Hulu with Live TV
Calling all Hulu fans, current Hulu subscribers can add to their subscription with Live TV. Hulu Live only provides two options for your live tv subscription, but like Youtube TV, there aren't any tiered options. For $40/month you'll get 60 channels or you can opt for the other option at $43.99/month with 60 channels commercial free; you'll get the same channels. Keep in mind, the $43.99/month option allows you to skip for regular shows, but NOT on DVR. If you want the option to skip on DVR, you're going to have to pay an additional $15/month. The enhanced DVR option also gives you 200 hours of storage, compared to the 50 hours you get with the standard package. You get two simultaneous streams free, if you want to upgrade, you can pay an additional $15/month for unlimited streams. Hulu offers a bundle deal for unlimited streams and enhanced DVR for $19.99/month. Hulu is known for having the latest episodes and multiple full seasons of popular shows. They also have the most local stations available. Although they have a good selection they are missing a few key channels like AMC, BBC America, Comedy Central, Discovery, MLB Network, MTV, NBA TV, NFL Network, and Nickelodeon. Like other streaming services you'll be able to add on channels like STARZ, Showtime, HBO, and Cinemax for $9-$15/month. Like Sling TV, Hulu is the only other live streaming service that offers parental controls. Many viewers complain about Hulu's interface, which only displays one show at a time, making it more difficult to navigate. Hulu doesn't offer many upfront deals, but they do offer a 30-day free trial.
PlayStation Vue
Gamers unite, PlayStation Vue is perfect for those who already have a PlayStation Plus or PlayStation Network membership. Although a great addition for PlayStation members, you won't need a membership or PlayStation console to access PlayStation Vue. If you have a PlayStation 4, you can split screen multiple channels all at once. Even though it's one of the higher priced options for streaming services, there are some features that make up for the price tag.
PlayStation Vue Tiered Options:
Access: 49 channels at $44.99/month

Core: 65 channels at $49.99/month

Elite: 88 channels at $59.99/month

Ultra: 90+ channels at $79.99/month
PlayStation Vue offers a solid amount of channels favorites like AMC, FX, ESPN, Cartoon Network/Adult Swim, Fox News, CNN, and HGTV but is still missing some major channels like A&E, Comedy Central, History, Lifetime, MTV, and Nickelodeon. Missing something? They have several add-on packages like a Sports Pack, Spanish Pack, Fox Soccer Plus, HBO, Cinemax, Showtime, and many more. The Sports Pack is not available for Access. If you're a PlayStation Plus member, you'll get $1-$2 discounts on some of the add-on channels and packs. One great feature is the unlimited DVR storage, but sadly, only holds for 28 days. PlayStation Vue offers the most simultaneous streams, at 5, for every package. A drawback is that their free trial period is only 5 days which may be short compared to other services like Hulu(30-day free trial).
Fubo TV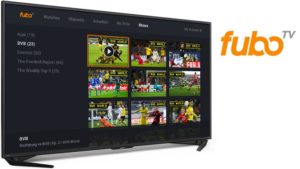 Low and behold, a live streaming service dedicated to sports fans. It has more regional sports networks than any other service we've mentioned and covers almost every sport at every level. There is one critical drawback, it doesn't include ESPN, a huge sports network. I mean, really? C'mon. How is a sports-centric tv service not going to carry one of the largest sports networks? Although this service is sports centered, they have a wide variety of entertainment channels. Some entertainment channels include the Travel Channel, HGTV, and Food Network. They also have news channels like BBC America, CBSN, MSNBC, and NBC. A few others are National Geographic, SYFY, USA, Weather Channel, TNT, TBS, Cartoon Network, Adult Swim, and TruTV. At $45/month($39.99 for the first month) for their standard package that includes 75+ channels or upgrade to Fubo Extra for $49.99/month($44.99 for the first month) that includes 95+ channels with additions like BBC World News, Cooking Channel, and DIY Network, People TV, and Stadium. They also offer international packages like Fubo Latino($17.99/month) or Fubo Portugues($19.99/month). Add on packages include Sports Plus, Adventure Plus, International Sports Plus, and Showtime. There's also an NBA League Pass option for $28.99/month that gives you access to 30 channels. You're given two simultaneous streams for free, but if you want to upgrade to more, you're gonna have to pay an extra $5.99/month for 3. You'll get up to 30 hours of Cloud DVR for free, but you won't be able to watch recorded content offline on your mobile device. Fubo TV includes a cool 3-day replay feature that allows you to replay any game or show that's aired in the past three days in case you forgot to hit record. If you want to try it out, they offer a 7-day free trial period.
By: Wendy Wang