The Wireless Music System has become a popular choice for audio streaming.  The ability to easily customize audio over WiFi throughout a home has made wireless music systems a staple in audio streaming. Wireless Music Systems, such as, Sonos and Heos have become well known for their name.
Traditionally wireless speakers used Bluetooth to transmit audio; however, the compression of the audio data being transmitted caused a loss in the audio quality. Therefore, using WiFi is an advantage for these wireless multi-room systems. WiFi enhances the speakers the ability to produce higher quality sound as well as the customization to group speakers. The two most popular wireless multi-room music systems currently are Sonos and Denon HEOS.
Sonos was the first wireless multi-room music system to become available; they simply revolutionized the wireless speaker. At the time of launch there was nothing like them on the market. The previously unheard of company became a steadfast giant overnight as Sonos' products gained popularity. However, competition came fast with a company that had been in the audio industry for over 110 years, Denon.
With Denon taking notice of the demand in wireless multi-room systems they created their own, HEOS.  Denon is one of the longest running, most respected names in the audio industry. Both companies produce great speakers and this is what makes it hard for many customers to chose which system may be right for them. What can make it harder to decide is that these speaker brands are not inter-operational. You cannot buy both Denon and Sonos speakers and group them within same system. When you buy either Sonos or Denon, you are essentially stuck with the one brand.
What Exactly Is a Wireless Multi-Room Music System?
A wireless multi-room music system will give you the ability to place speakers throughout your living space and to control the speakers easily with a propitiatory app. Within this app you will have ability to group your speakers. Grouping speakers will give you the option to have all, or some, of your speakers stream one audio source. Likewise, you may choose to have different speakers stream different sources. Within this app you will also be able to adjust the volume as well as the audio content.
The Apps
Both of the Sonos and HEOS apps are essentially smart platforms. These platforms contain a plethora of services for streaming and control. All of your favorite streaming services are together, from audio-books to music. This efficiently streamlines your system and prevents you from having to open and close multiple audio sources.
When buying a new wireless multi-room system it is important to find something that is user friendly. Fortunately, both systems are intuitive, easy to use and are nearly identical to each other.
Sonos
What stands out in the Sonos app is the exclusive access to Sonos Radio. Sonos Radio gives you the ability to choose between thousands of radio stations as well as access to live radio from around the world, genre stations, and original programing. You can use Apple AirPlay, however, you will have to purchase a monthly subscription for that service.
In the App Store you might notice two Sonos apps,  Sonos and S1. S1 is for Sonos legacy products; products that have essentially been discontinued. This has taken many Sonos users by storm, as the older and newer Sonos products no longer will work together. Some Sonos users felt that they were forced to "split" their systems. As time goes on, so does the hardware in these speakers. Sonos addresses that they had only given the legacy title to certain speakers that could not withstand the technological demands of new software updates.
Denon Heos
Denon HEOS supports the same speakers and music systems since day one, even with new speakers freshly arriving on the market. As a bonus, Heos supports more than just Denon's line of speakers, it also supports Marantz receivers.  Unlike Sonos, HEOS supports both Bluetooth and Airplay without a secondary subscription.
With the small differences aside, the Heos app and Sonos app function the same way. They both allow you to access your streaming services and controls from one, easy to use app.
The Products
There are plenty of options between both Sonos and Denon when it comes to setting up your wireless music system. From small speakers to large, there are different speakers for different areas of your home.
On The Go
Enjoy sound anywhere with Sonos' Move. Move is weather resistant and drop-resistant. This durable speaker features voice control, and for situations where WiFi is not available, you can utilize Bluetooth.  Recharging is a breeze. You do not have to plug Move in, simply just place Move on the charging base.
For Small Spaces
Denon's Home 150 is a great addition to smaller spaces. You can pair two together to get amazing stereo sound.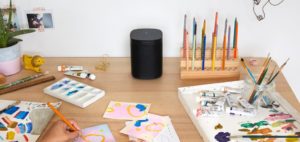 Sonos One is very similar to the Denon Home 150, it is great for smaller spaces. Sonos one features humidity resistance, making it the perfect choice for the bathroom.
Larger Rooms
Denon's 250 and 350 Home Series delivers unparalleled synchronization. Milliseconds matter and that's why the Home 250 and 350 the audiophile's choice.
The Sonos Five is Sonos' top wireless speaker featuring superior sound. Five is Sonos' latest addition to their next generation of wireless speakers. It was important for Sonos to create speakers with not just great sound, but with better processing power.
Picking between Denon HEOS vs SONOS
Visually both systems offer speakers in either white or black. There is not much difference between the styles as well, being that each brand of speakers almost look identical to each other. Both Sonos and Denon also offer soundbars for televisions as well. Denon currently has more options to chose from.
Denon
Denon's HEOS system works with older and newer wireless models as well with multiple receivers for wired speakers. There is no extra subscription required to enjoy your iTunes library and to utilize Apple Airplay. HEOS truly allows for personal customization with no strings attached. Denon also promises not to discontinue the support for their products, a true clap-back to Sonos.
Sonos
Sonos has won the popularity contest for now, however, many of their loyal customers have jumped ship with the latest forced split of their music systems. Fortunately, the Sonos product line up is pretty impressive. After all the new software and processing power is worth the upgrade. Sonos also has multiple accessories and products like Boost. Boost creates a separate wireless network for your speakers, making sure your wireless networks don't get bogged down from the speakers.
AIC is Here to Help
In the end, picking sides between Sonos and Denon is a lot like picking between Apple and Android or Windows and Mac. The choice is simply based on personal preference.  Each music lover understands the need for high quality speakers, and whether you pick Sonos or Denon, you will have a great speaker system. Contact us today to learn more about setting up your own personal wireless multi-room music system. Check out our Sonos page and our Denon page for more information and about about the products we offer.