Drop down TV wall mounts are a way to upgrade your traditional wall mount by adding more comfort when relaxing with family or entertaining guest. As wall mounting televisions became the norm, we have missed something along the way. The drop TV wall mount, is without a doubt, elegance in the way we are able to place thin televisions on the wall and over a fireplace.
After all, it wasn't that long ago that our televisions took a large floor-space in our living rooms. It was practically yesterday we had these clunky console televisions.
The problem is, while we mount our televisions on the wall, we are missing comfort.
Lets face it. Your television is most likely mounted rather high, either over a fireplace, or above some sort of furniture. For the longest time we watched television at face level, now we have to look up. This is not a natural viewing position. The risk associated with higher raised televisions is obvious, neck strain. Like sitting front row in the movie theater, some people love it, others prefer a more level viewing option.
Nexus 21 has created the Transcend Pro series to combat this problem.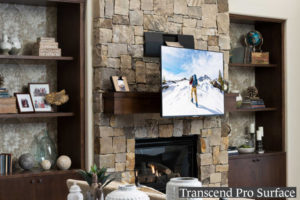 The Transcend Pro and the Transcend Pro Surface are two extraordinary wall mounts that can lower the television up to 27″. This innovative design decreases neck strain associated with looking up at a traditional wall mounted television.
Besides being able to lower, the Transcend Series mounts also can swivel 40 degrees in either direction, allowing the best viewing in all situations.
Now you are probably thinking that this mount is going to be big and clunky. Motors to move the television have to add space, right?
The Transcend Pro is an in-wall mount which sets the television off the wall approximately 1.5 inches. The Transcend Pro Surface is an on the wall mount. These Surface mounts are ideal for fireplaces and for spaces in which an in-wall mount will not work. The Surface mount sets the television around 4.6 inches off the wall, making both of these mounts slim and low profile.
The Transcend Pro Series features a soft close with a smooth, quiet and fast motor. Nexus 21 offers a 10 year warranty on all their mounts, providing a peace of mind with your purchase.