Elan Surveillance Cameras and NVR's have been released. These next generation cameras are innovative, featuring an auto-focus feature and are equipped with advanced video analytics. The new ELAN network video recorder features a new, small form factor unit. Elan has also released new mounting accessories for the bullet and dome camera in both black and in white.
The Next Generation Products
EL-NVR-8CH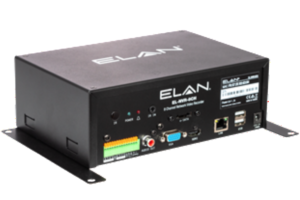 ELAN's latest 8 channel network video recorder (NVR) features an all new, small form factor. This smaller size allows for an easy fit on a rack shelf or a structured wiring can. The ELAN NVR ships with a 1 TB hard drive and can expand up to 8 TB. Don't let this small form fool you! Even in its small size, this NVR is powerful and flexible enough for a variety of surveillance installations. What makes this product stand out from others is its easy integration. Unparalleled to any other surveillance product, the ELAN NVR can be controlled in the easy to use ELAN app and user interface.
ELAN Camera Series with Auto-Focus
ELAN Surveillance Cameras have 3 designs to choose from with Auto-Focus Series offered in black and in white. Each are 4 megapixels with IntelliVision Advanced Analytics. This auto-focus camera series can be controlled from the ELAN user interface. This is a great advantage as you will no longer have to drag a ladder out and adjust the cameras manually. The incredible IR illumination allows for night vision up to 30 meters away. A wide dynamic range enhances the image quality by automatically balancing the light and dark areas for an impeccable image. All cameras can be mounted inside or outside and utilize POE (Power over Ethernet). Together, with the ELAN Network Video Recorder, this surveillance system is easy to use and will exceed in every utilization.
Advanced Analytics
This next generation auto-focus camera series by ELAN is equipped with advanced analytics. Advanced analytics give these cameras the ability to detect objects with capability to classify people and vehicles. As a result there is considerable reduction in false positive alerts from the system. Alerts can notify you over your phone with push notifications in regards to events happening around the home.
IP Outdoor Auto-Focus Turret Camera with Advanced Analytics
The auto-focus turret camera can be mounted on the wall or ceiling. It is perfect for home or business surveillance where there may be a need for enhanced information reporting. The turret camera has a flat lens with its own independent IR sensor for distortion free images along with superior IR capture. An IP66 weather resistance means this model is "dust tight" and will work in any weather condition.
IP Outdoor Auto-Focus Dome Camera with Advanced Analytics
The dome camera is best for indoor and outdoor use that requires a wide and large area for surveillance. A great area for installation for the dome camera is a backyard with a deck. The camera can capture the width of the deck while also monitoring the rest of the yard. This camera is best mounted on a ceiling.
IP Outdoor Auto-Focus Bullet Camera with Advanced Analytics
The bullet camera is somewhat conspicuous, which makes it perfect for areas where you want people to know that they are being observed. This can make for an excellent deterrent and is perfect for entryways, hallways and garages/driveways. The bullet camera can be installed on walls, soffits and under eaves. It has a built in, adjustable sun guard to eliminate glare.
Advanced Integrated Controls – Top Dealer of ELAN Products
Advanced Integrated Controls leads the Low Country in installations of ELAN equipment. We have been recognized and awarded with top dealer of 2019 by ELAN. If you are interested in any of these products contact us today.