Lutron Palladiom is a masterpiece, a flawless, highly sought after shading system with over 50 years in the making. Lutron takes inspiration from the foundations of modern art, featuring Bauhaus roots, Scandinavian design concepts and International modernism.  And Lutron Palladiom offers innovative elegance with groundbreaking technology.
It is so exclusive, that Advanced Integrated Controls is the only company in the region to offer installation. Palladiom represents the tradition of precision workmanship, a quality that is distinguishable only by qualified and experienced installers.
Advanced Integrated Controls has attended extensive training to be able to qualify as a Palladiom Shade and Lighting installer. It was imperative that our installers had the best training possible for the most advanced shading system on the market. There are no other companies in the region to offer this niche, high demand product, and Advanced Integrated Controls is proud to the first.
What sets Palladiom apart, and what requires such extensive training, is the patented intelligent hembar alignment system. This system coordinates the shades in either one room, or the whole home, and assures that the balance and aesthetic of these incredible shades are maintained. Only skilled tradesmen can maintain this balance, a feature that already makes AIC stand out from the others.
Beauty & Strength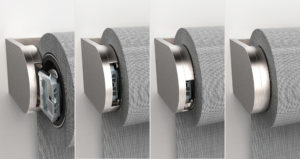 These shades can effortlessly handle a 12-by-12 foot window space due to its unique carbon fiber technology. A remarkable slim tube that is less than two inches in diameter can effortlessly handle the amount of fabric needed, creating shades that have maximum strength while maintaining a minimum profile.
Due to the carefully designed slim profile, they can accommodate any space and can integrate any architectural style. Installed with an exposed application, Palladiom shades are without a fascia, pocket or recess, creating an impeccable view from every angle. The elimination of custom valances, soffits and expensive pockets make this particular shade easy to choose from. There is nothing extra to design or to build around, no other fabrics or materials needed. This makes Palladiom a designer's dream.
Engineered To Be beautiful
There are many design options to choose from. Each end, center and jamb bracket is offered in a variety of finishes, such as pure white, satin nickel, black anodized and clear anodized.
These designs are not limited, as the hembar also has multiple options to choose from. The hembars, or bottom rails, are made from extruded aluminum which can be exposed to show off metal finishes, or wrapped in the fabric of choice from an extensive catalog.
When choosing a hembar there are different metal finishes you can chose to show off. Bellow are color options using the style of Palladiom's bottom rail.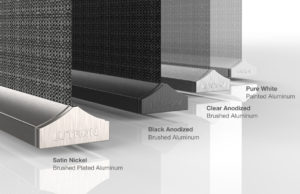 Whisper Quiet Technology & Effortless Control
Palladiom is to be seen, not heard. And their not commonplace motorized shades that you may find in offices. Whisper silent motors make them the quietest shades offered in the industry.
Lutron's HomeWorks QS system allows for effortless control and an equally elegant design. These exquisitely designed keypads are offered in a variety of finishes as well as custom engraving and back lighting.
To learn more about Palladiom and the services that only Advanced Integrated Controls offers, contact us today.