Updates… Its that time of the year again. The daylight is slowly disappearing and the weather is getting colder by the day. Outdoor activities are decreasing and we find ourselves wrapped up in blankets in our favorite seat trying to find something new to watch on television. Fortunately, Disney and Apple both launched new streaming services this month. Advanced Integrated Controls is here to break down these two new services for you so you can get the most out of your streaming experience.
Updates with Apple TV Plus
Apple updates include Apple TV Plus a new subscription streaming program that contains exclusive original content. The premiere of Apple TV Plus opened with a total of 8 shows, 3 of them are children's shows, and a documentary. The full seasons of the TV shows are fully available. A new episode will become available every week. New shows will be added in the coming months.
Quick Facts:
Release Date: November 1st
Cost: $4.99 monthly; $49.99 yearly; Free year to anyone who bought an Apple product on Sept 10, 2019 or later
Supported Devices: All Apple Products (iPad, iPhone, Mac, Apple TV, etc) Roku, Fire TV and more supported devices are coming soon.
Commercials: No Commercials
Variety of Shows: At this time Apple TV Plus Has 8 Series and 1 Documentary
Cost and Availability
Launched on November 1st, Apple TV is viewable on all apple products. The iPhone, iPad, Mac, Apple TV, and even the iPod Touch all have the streaming service built into them. You can simply click on the Apple TV app and start your service to enjoy your new favorite shows. The app is also available on Roku, Fire TV, and some smart televisions such as Samsung, and LG. Vizio support is coming soon along with more options to view the Apple TV Plus app. Currently the app is not available in Google Play nor does it have an app in the Microsoft store.
Apple TV Plus costs $4.99 a month and offers a free week trial. A yearly subscription is $49.99. If you have purchased an Apple product on September 10th or later of this year than you can enjoy a free year of Apple TV Plus.
Feel free to share your plan with your family members, as your subscription is good for up to six different streams or devices.
Content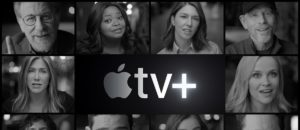 Apple TV Plus consists of exclusive and original content that cannot be viewed on any other platform. Upon launch, Apple TV Plus has 9 shows available for users along with plans on adding more with time. Despite the lack of content, these shows feature high profile celebrities and an enormous budget. Each of these shows cost anywhere from 5 to 30 million dollars a show to produce. Many episodes are more expensive than the complete final series of The Game of Thrones.
All shows are available in 4K HDR and support Dolby Atmos. You can also choose to download shows to view later offline.
Reviews
At the time of this blog being written Apple TV Plus has been out for almost two weeks. Most reviews have been rather harsh, saying that the shows are "underwhelming" and "ultimately forgetable." A critic from the New York Times, James Poniewozik, wrote "It's like something assembled in a cleanroom out of good-show parts from incompatible suppliers. Under the gleaming surface, as sleek and anodyne as an Apple Store, it is a kludge." Ouch.
On November 12th an Apple TV Plus executive left their job. The split is said to have been amicable; however, many are wondering if it has to do with the many negative reviews. It will not stop these shows from continuing as many shows have already been cleared to start filming their second season.
Updates with Disney Plus
Disney has finally released their new streaming service, Disney Plus. Disney Plus features an enormous backlog of movies and television shows as well as new original and exclusive content. There are over 500 films and 7,500 television episodes from studios such as Disney, Marvel, Star Wars, Pixar and Fox Legacy. A pretty extensive list can be found on CNET.
Quick Facts
Release Date: November 12th
Cost: $6.99 monthly; $69.99 yearly; Free year to Verizon Customers
Supported Devices: Supports IOS and Android app store, Xbox One, PS4, Roku, Fire devices and smart TVs
Commercials: None
Variety of Shows: Large collection of Disney, Marvel, Star Wars and Pixar shows
Cost and Availability
Disney Plus became available on November 12th. On the fist day over 10 million people subscribed. Launch was so popular that Disney Plus servers crashed, unable to handle the large influx of excited viewers.  Viewers are still reporting issues with the site. We've tried Disney Plus for ourselves and have not experienced any issues other than a slightly longer load time once and a while.
You can view Disney plus through a web browser, IOS devices, Android devices, Chromecast, Roku, Amazon's Fire TV, Samsung smart TV, LG smart TV, PlayStation 4, Xbox One, and Windows 10. Currently Disney Plus does not work with Vizio smart TVs.
Content
Disney's extensive backlog of TV shows and movies along with studio giants such as Marvel, Star Wars, Pixar, National Geographic and Fox Legacy make Disney Plus an attractive streaming service. The lineup also includes new and exclusive content that cannot be viewed anywhere else. Shows can be downloaded for offline viewing. Disney Plus will stream with 4k UHD, Dolby Vision, HDR10, and Dolby Atmos sound.
Reviews
Overall, for the price of $6.99 a month or $69.99 a year, Disney Plus is an amazing deal to watch favorites that are near impossible to find otherwise. There is also a bundle off for Hulu, Disney Plus and ESPN Plus for $12.99 a month.
Disney Plus is great for families or those who are longing for nostalgic content. The starting line-up is huge and there is only more to be added. Overall reviews across platforms suggest that Disney Plus is an impressive service at an equally impressive price.
What About Netflix?
With these two new streaming services available, along with new and upcoming services such as Peacock and HBO Max, Netflix is still fighting for control over the streaming game. Netflix has just signed a deal with Nickelodeon to produce new content exclusive for Netflix. There will not be any Nickelodeon originals, but rather spin offs of the more popular and favorite shows such as Spongebob and The Loud House.
With many Disney titles now available on Disney Plus, Netflix will lose rights to many movies on its platform. By the end of 2019 many Disney movies will cease to stream on Netflix. The Office, a fan favorite on Netflix, is scheduled to leave in 2021 for NBC's streaming platform Peacock. Will Netflix take the backseat in the streaming wars? Only time can tell.
At Advanced Integrated Controls we strive to keep our customers up to date with the latest in home theater and home technology. If you are interested in upgrading your streaming experience with the latest home theater technology contact us for a quote today.