Cedia Expo – 2019 Showcase
Recently, Advanced Integrated Controls attended the Cedia Expo in Colorado to learn about the latest and greatest home technology. The Cedia Expo is a yearly event for professionals and press to learn about the newest technologies and products emerging into the market. Awards are given out to top companies with the best products and services. This year AIC took home the Top Dealer Award from Elan Systems.

Advanced Integrated Controls toured through the Cedia convention center of nearly 500 exhibits. From those exhibits here are some notable products.
"Hidden" Gems
Watch as it only takes 10 seconds for this deck to turn into an ultimate backyard media area. When closed this deck can be used as any other normal deck area.
Future Automation specializes in range of picture mechanisms that can provide a variety of different movements . This year Future Automation featured their "hidden bar." At Advanced Integrated Controls, we offer a wide array of motorized solutions, from hidden storage lifts to television art lifts.
Seura Products
Seura's Hydra Indoor Waterproof TV is perfect for any spa, bathroom or kitchen. These TV's come in metal, glass and custom color finishes making it perfect for any home. Their sleek design ensures that it is flush with the wall and will seal to nearly any surface, such as marble, tile and drywall. Seura's Hydra Indoor Waterproof TVs are designed for wet environments. A tempered glass screen that acts as a defogger so your picture will never be clouded. When in the kitchen these TVs can be safely washed and wiped just like any other surface.
Seura's TV Mirrors and Smart Mirrors are an amazing addition to any room. Perfect for recreation rooms, bedrooms, offices, bathrooms and living rooms. These televisions offer high definition while containing a vanishing mirror technology that does not disrupt the picture when on. When the TV is off, the screen is completely hidden. Seura's Smart Mirrors work with the Google Play store so you can personalize your own content. You can control these smart mirrors by voice and touch.
Did you know that we actually design mirror televisions and vanities in our own showroom? This ensures that our clients are getting exactly what they need in mirror televisions and vanities. With us the design options are absolutely endless. Learn more about our custom made mirror televisions and vanities in our services page.
Nexus 21 Products
Nexus 21 has introduced the Drop Down TV Lift with a Motorized Swivel. This lift features a smooth and quiet motorized swivel that can hold televisions up to 75″. It also has a 360 degree swivel has 2 memory positions.
Nexus 21's Transcend Pro Series is a professional grade over the mantel mount. This mount solves issues that arise when placing a television over the mantel. Your television can now be at optimal viewing height for you.
This is the Nexus 21 drop down + extend lift. The extension option is new this year which allows for better viewing position. Nexus 21 offers a 10 year warranty on all of their lifts. At AIC we offer various types of TV lifts for your home or office.
Sony Products
With four times the resolution of 4k, this 8k Master Series z9G LED TV brings you the best Sony has to offer. Experience clarity and rich colors with Sony's Picture Processor X1 Ultimate. Upscale your programming to near 8k quality.
Winner of two different awards at the Cedia Expo was the Master Series A9G. The A9G features the powerful Picture Processor X1 for an ultimate viewing experience. You will be able to control this tv by using Google Assistant or Alexa. Experience amazing colors with its Triluminos Display and embrace the amazing detail and textures this television has to offer.
Advanced Integrated Controls is a proud Sony dealer. Contact us when designing or upgrading your  home theater or media room.
Speakers
Advanced Integrated Controls specializes in custom audio. If you are interested in these products below please contact us for a quote. Whether it is indoor, or outdoor entertainment, AIC delivers high quality custom audio fit for any space.
Terra FIVE and Terra SIX withstand outdoor conditions while providing high quality sound. Terra FIVE gives a modern look while Terra SIX features the UniCavity technology to withstand continuous all-weather exposure.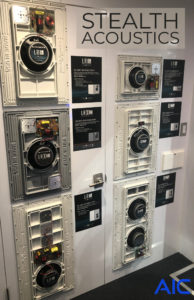 Stealth Acoustics's award winning line of invisible speakers utilize a minimalist design, without sacrificing performance. Stealth delivers superior, invisible or hidden, audio performance.
JL Audio's Fathom series in-wall sub-woofers provide an innovative way to produce top notch sound all while being out of sight.
KEF's Blade and Blade 2 are high performance floor standing loud speakers. Blade 2 is a smaller version for smaller areas. The engineers at KEF decided to make this concept a reality. In honor of the company's 50th anniversary the Blade was manufactured. With innovative features these speakers produce a warm and expansive sound that has audiophiles around the world in awe.
What We Can Do For You
Advanced Integrated Controls have the latest technology, as well as, the best products so that our client's dreams can become realities.  We are not just a home theater company. Advanced Integrated Controls is a leader in home automation. Our goal is to help create the perfect atmosphere inside your home or business for you and those around you. Contact us today to let us help you make your home, or business, efficient and connected.